Create SmartWeb API user for category- & order feed
Create SmartWeb API user for category- & order feed
Give Hello Retail access to categories & order feed via SmartWeb's API.
- This data is necessary only if you want to have your categories searchable in our  Hello Retail search feature.
First you must go to smartweb.dk and log in to your backend. when inside you must navigate to Kontrolpanel > API and activate api by checking the "API adgang" checkbox - finally save by pressing "Gem"

Next you go to Kontrolpanel > Administrative brugere and press "Opret administrator bruger" :

Finally you change the checkbox from "Administration" to "API", enter your email (must not be used by another smartweb admin already) and password.
The password is going to be visible for Hello Retail support staff so don't use your personal password - make up something new.
OBS: the password must not contain the characters '!' and ',' and '€'.
Save by pressing "Gem"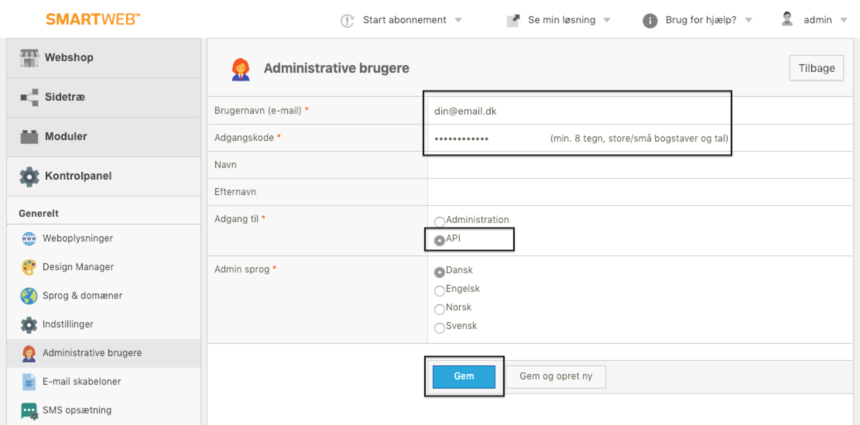 Now contact support@helloretail.com and tell them that you want a smartweb category feed set up and give them the username and password that you created this user with.
Also you must give them the languageISO for the shop - if you shop is in danish then it is "DK"
 
*if you trouble following this guide you could also have a look at smartwebs own:
https://help.smartweb.dk/shop-api/